TG-4H Turnout Gear Dryer
4 Drying Units | Ambient/Heated Air
Ram Air's TG-4H turnout gear dryer with touchscreen control safely and quickly dries up to four sets of turnout gear and accessories with heated and ambient air. The Ram Air TG-4H Turnout Gear Dryer aligns with gear manufacturer drying requirements and complies with NFPA 1851/FEMSA recommendations for drying gear.
TARGET HARD-TO-DRY AREAS
Ram Air's patented design uses powerful fans that push air through turnout gear from the inside out—effectively drying the hard to reach areas and vapor barriers in gear that are prone to mold and mildew if not dried properly. The unique design of our turnout gear dryers limits air loss and prevents air flow from following the path of least resistance. The result? Faster, more efficient drying and an increased ability to dry more suits in the same amount of time.
FLEXIBILITY FOR ALL TURNOUT GEAR COMPONENTS
We know what it is like to work in wet boots and gloves. That is why Ram Air's TG-4H Turnout Gear Dryer comes fully loaded with 12 component ports for drying all accessories including helmets, gloves, boots, face masks and SCBAs. Keeping you dry and comfortable is our job.
TOUCH SCREEN CONTROL FOR DRYING WITH HEATED OR AMBIENT AIR
A touch screen control on Ram Air TG-4H Turnout Gear Dryers gives users immediate visual access to the drying status/dry time remaining and personalized control of dry time/temperature through customized settings. The control features a simple user interface with clearly defined icons. Users can select one of the five drying time presets including a continuous drying option, or they can choose the custom timer option–a feature that allows users to select a custom dry time based on their department's unique drying needs.
When the dryer is in use, the screen clear displays the drying status using a series of easy-to-understand icons and a timer countdown keeps users abreast of dry time remaining–even at a glance. The touch screen is extremely durable with a smooth flat screen that is easy to clean. The control easily allows for toggling between normal, ambient-air drying or heated drying.
FEATURE STRUCTURALLY SUPERIOR CONSTRUCTION
We strive to deliver products that set quality standards beyond any competitor's turnout gear dryers. Heavy-duty casters provide mobility for the unit and top-quality steel construction of the frame and air passages ensure that Ram Air Gear Dryers are built to last. We design our gear dryers to be the most structurally superior fire gear dryers available and stand by them with an industry-leading five-year warranty!
PRODUCT DOWNLOADS – TG-4H TURNOUT GEAR DRYER
  Warranty

  Product Brochure

  TG-4H Turnout Gear Dryer Specifications

TG-4 4-unit Ambient Air Gear Dryer

Like Ram Air's TG-4H, the TG-4 safely and quickly dries up to four sets of turnout gear and accessories but provides only ambient air drying.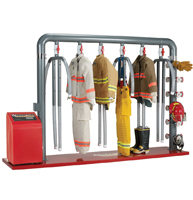 TG-6H 6-unit Ambient/Heated Air Gear Dryer

The TG-6H safely and quickly dries up to six sets of turnout gear and accessories using ambient air drying or heated air drying.