FH-1 – Flexible Hose and Blower Connection
The fans on our T4-IHT gear dryers do double-duty. Not only do they provide efficient drying of your gear, they can be easily removed and attached to your pumper truck's water ports for quick drying — preventing freeze-ups in harsh winter conditions thereby protecting your apparatus investment. The fan unit is equipped with casters for ease of mobility when not attached to the gear dryer.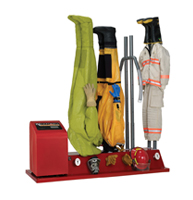 T4-IHT 4-Unit Special-Ops Gear Dryer

 By allowing for inverted drying, Ram Air's Special-Ops Gear Dryers are able to dry hazmat, immersion and ice-rescue suits that standard gear dryers cannot accommodate.