RS-B – Rinse Station and Staging Accessory
The Ram Air rinse station and staging accessory securely holds stickmen from a T4-IHT gear dryer in an upright position for easily rinsing and gear decontamination that cannot be washed in a mechanical washer. This accessory is especially helpful for gear decontamination of special-ops gear including survival suits, immersion suits, gumby suits, hazmat suits and ice and dive equipment. After cleaning, the dressed stickman are easily transferred to the T4-IHT gear dryer without further handling of the gear. This firefighter gear decontamination accessory can also be used to stage gear when gear drying needs exceed the capacity of the gear dryer. Its compact design folds easily for convenient storage when not in use. The rinse station can be order as a base only or as a package that includes both the base and one stickman. Additional stickmen can also be ordered separately.
RS-B – Rinse station base only
RS-BSTK – Rinse Station base and one stickman
STK – Stickman only
KEY PRODUCT FEATURES
Solid Steel Construction
Powder Coat Paint
Teflon Sliders for Easy Set-Up/Storage
No Assembly Required
Self-draining
Rubber Bumper Fet for Traction on Floors
Open Dimensions: 36.5″ x 46.25″ x 7.5″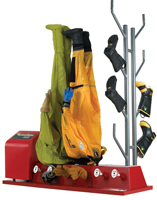 T4-IHT 4-Unit Special-Ops Gear Dryer

 By allowing for inverted drying, Ram Air's Special-Ops Gear Dryers are able to dry hazmat, immersion and ice-rescue suits that standard gear dryers cannot accommodate.